http://godzhell.wikia.com/wiki/The_Pacific%27s_Resignation:_The_End_of_an_Era
My quitting statement.
I try to get online and play at least once a week, mostly on weekends. You can always email me at thepacific@me.com if you'd like to schedule a meeting or something of the sort.
About me
My name is Jack, I'm 18. I live in Boston, Massachusetts. I started playing RuneScape in about 2005 around Halloween and loved it and became an addict for a good couple years. I got to be ranked 180 overall in WC back when it was a respectable skill. I quit on and off, I quit for good when the market crashed and I sold my Santa for 17M and my Red mask for like 25. Now They're both 100+. GodzHell reminds me of RS and I love it. I haven't been playing that long but I've become acquainted with alot of older players, learned alot, and gotten my hands on some very nice rares.
I'm normally at Skillz hanging out with people on most days, so shoot me a PM.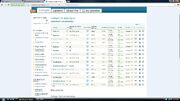 My favorite pages
Community content is available under
CC-BY-SA
unless otherwise noted.