Skills are abilities that can be raised/trained through certain actions within the game. A players stats can be viewed via the Stats menu. Each skill can be raised to a maximum level of 99, although experience can still be gained after this.
List of skills
Combat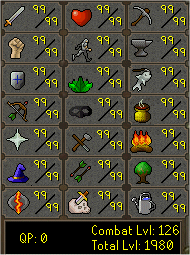 Non-combat
Trivia
Construction, Hunter, Summoning and Dungeoneering do not appear on the Godzhell Stats screen. This is because Godzhell uses a RuneScape client which was created before these skills were released.
While a trimmed Construction skillcape can be bought and worn by any player at Zeke's skillcape shop, the skill cannot be trained in the game.
A number of the trimmed capes bought from Zeke's shop can be worn without requiring level 99 in the corresponding skill.
The Hunter Skillcape Appears as "null" at Zeke's store.
The maximum experience a player can get in any skill is 1 billion (1,000,000,000), at which point the player's experience is indicated with a question mark. However, it is thought that the server may still track experience beyond this, as the Agility Hiscores show that there are players with over 2 billion experience.
The maximum total level achievable in the game is 1980.
Community content is available under
CC-BY-SA
unless otherwise noted.